AF-NCF-8N(V22)Ice Coffee Vending Machine
Product parameters
Product Structure
Product Advantage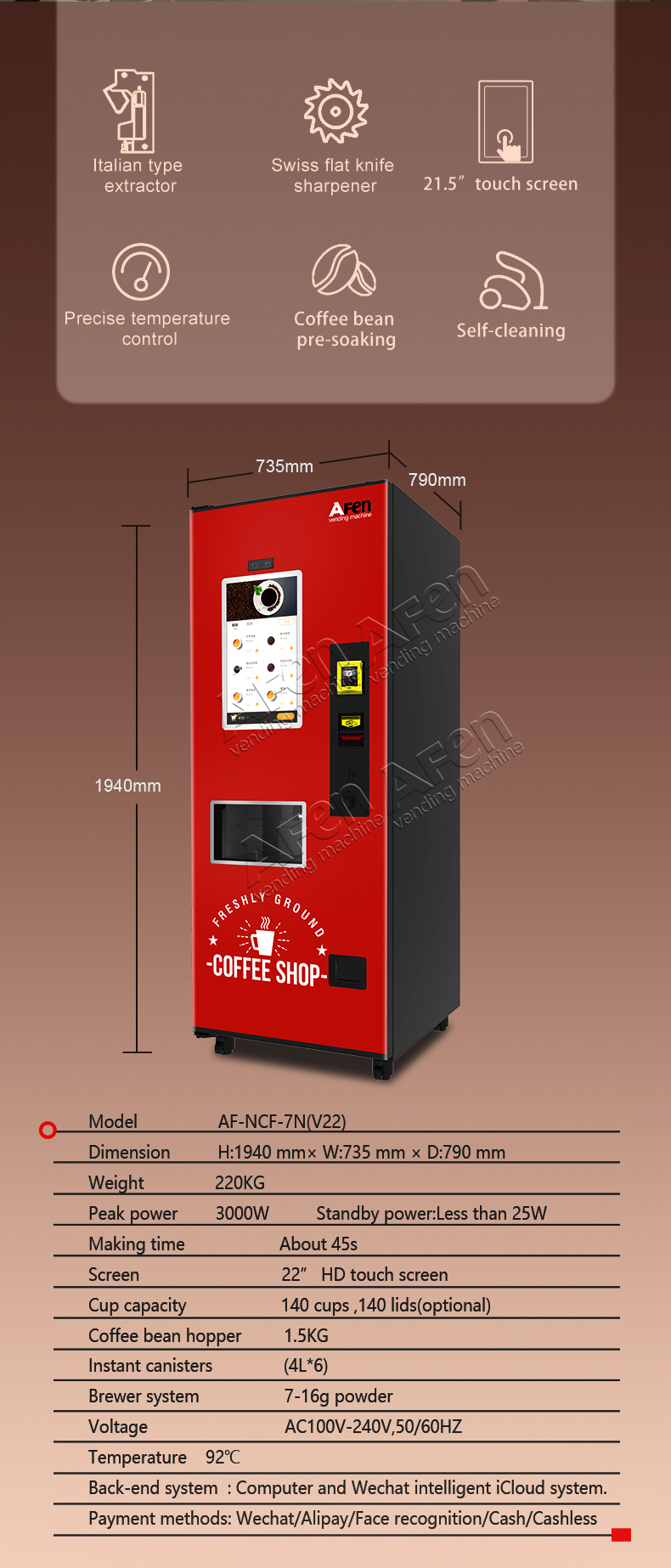 Coffee Vending Business
AFEN coffee vending machine VS cafe,and compared to peers,we have the following advantages:
Efficient and low cost business,mainly much lower rental and labor costs,it's suitable for operating in office buildings,senior middle schools&universities,airport&stations,etc.
The fastest time to make a cup of coffee takes only 45 seconds,it usually only takes 45 to 60 seconds to get a cup of customized coffee drink, fully automatic one-key production, convenient and quick.
Standardized production process,the taste and quality of coffee drink can always be stable.
Customized flavors,there are many different flavors of coffee drinks on the machine to choose from,in addition,milk or not,sweetness,the cup size,etc,consumers are free to choose.
Finally,our machines have better stability, safety and practicability among peers because of the high-quality parts and high standard production process.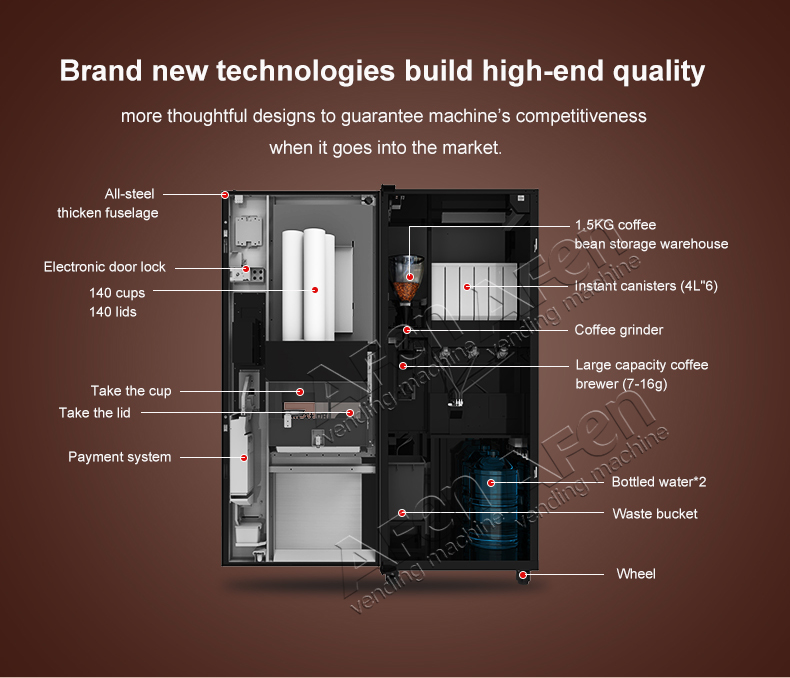 Featured Coffee Machine
Specification:
1.Bean to cup coffee machine, freshly ground coffee and hot coffee drinks.
2.Cappuccino, latte, Espresso,white coffee,mocha,chocolate milk, latte cocoa,etc,more than 20 drinks to choose from.
3.Heating power 3000W,making time45-60seconds,the capacity 140-160 cups,140-160lids(optional),7-16g coffee bean is used for each coffee making.
The processing:
1.Coffee bean pre-soaking,improved extraction efficiency,improved the coffee taste.
2.Extracted by high pressure and high temperature,the pressure is 9 bar,it's gold extraction pressure,coffee lactone are fully emulsified,the taste is more mellow and silky.The temperature at 92℃,the best water temperature for coffee,precise and continuous water temperature control to keep the coffee brewing.
3.Various ingredients dispense fast,weight of the coffee bean for each cup is stringently controlled to guarantee the best taste.
Featured design:
1.All-steel thicken fuselage,electronic door lock.
2.Visualization glass window,you can see the main production process.
3.A large Bean storage warehouse,6 large food boxes for different instant powder.
4.Swiss flat knife sharpener,the grinding particles are uniform in thickness, and the quality of coffee extraction is improved.The service life of the part reaches 750000 times.
5.Automatic cup&lid dispensing,support continuous production of coffee drinks for a long time.
6.Smart stirring in the cup,support self-cleaning function.
7.Way of pumping water,fast switch between water bucket and running water.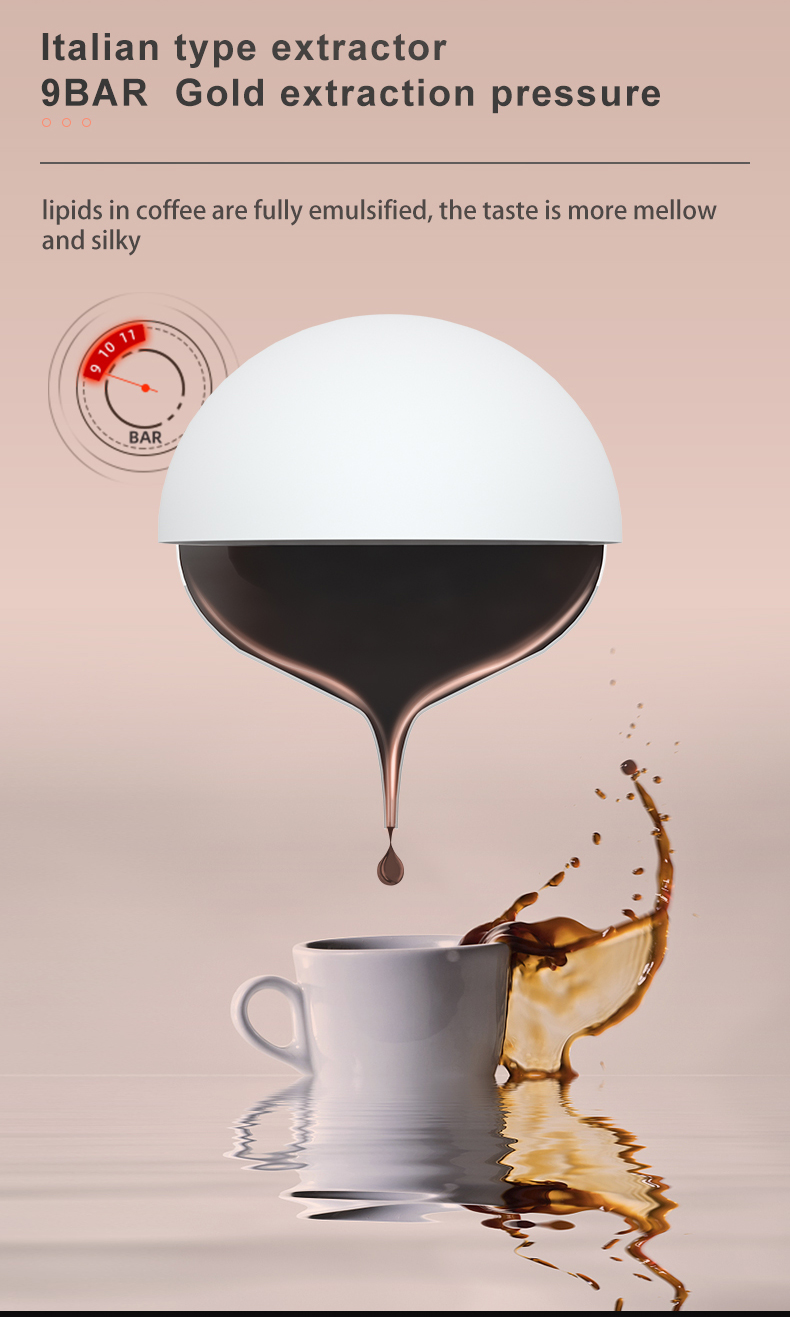 Cost-effective Vending Solutions
Software solutions:
AFEN Intelligent SAAS service system
Telemetry icloud service system,remote management,easy software management and intelligent remote operation,it's free to use forever after purchasing the machine.
Its main functions include,
1.Real-time Monitoring
2.Video Surveillance
3.Operation Configurations
4.Fault Alarming
5.Statistics Analysis
6.Income Assessment
7.Promotion Settings
8.Advertising Settings
9.Mobile APP
Payment solutions:
In addition to the basic cash,coin,card acceptor configurations,the mobile phone payment that international standards version,and other cashless payment,specifically,the QR code,face-scan and other payment functions can be customized and developed by docking with third-party.
AFEN service:
1.Our complete service, pre-sales, payment&shipping, after-sales.
2.Pre-sales, just the guidance, specifically, model choice, model configurations, software&function customization, payment customization.
3.Payment&shipping, we negotiate a plan.
4.After-sales, including the new machine operation guidance(hardware and management software), remote trouble shooting and repair guidance,machine upgrade&technical support, spare part supporting, independent maintenance and repair training.
5.Our resources of service, the team(account manager, hardware&software engineer), the cooperate(video&pdf course, online guidance, on-the-spot guidance).