AF-CFM-4C(V49) Hot Food Hot Meal Ready Food Vending Machine
Product parameters
Product Structure
Product Advantage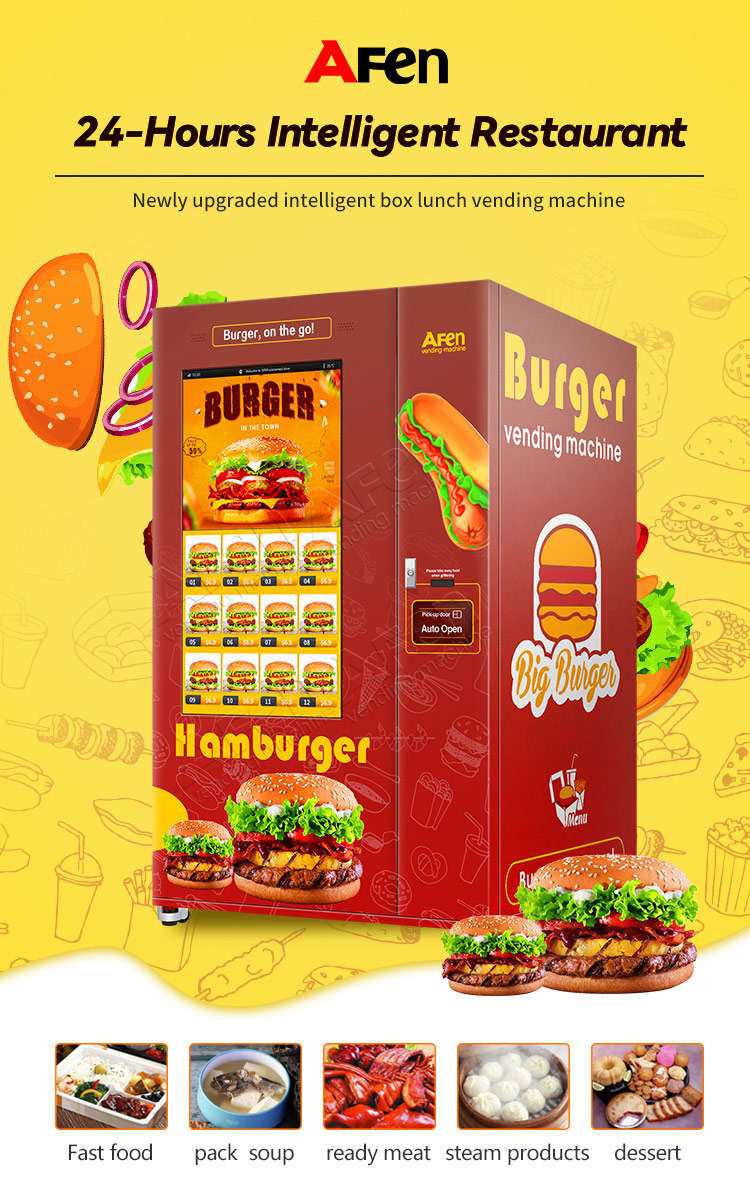 Hot Food Vending Business
Hot food vending machine,it's a intelligent restaurant,smart kitchen,it can sell 60 to 160 boxes of meal,it suitable for selling pizza,hamburger,hot dog,fries,box lunch meal,the take-out,etc.
It's suitable for operating in office buildings,school campus,factories,etc,you can develop the business related to breakfast, lunch,fast food in these places.
In terms of rental and labor costs, the operating cost of a machine should be much lower than that of a restaurant in the same period of time.The energy consumption,heating 3000W,normal 80W.
In addition,the location strategy is flexible,the catering business strategy is also flexible,multiple machines can be managed with only a small amount of manpower.Machine operation can cover more locations and affect more consumer groups,and there may be rental income from multimedia large-screen advertising spot.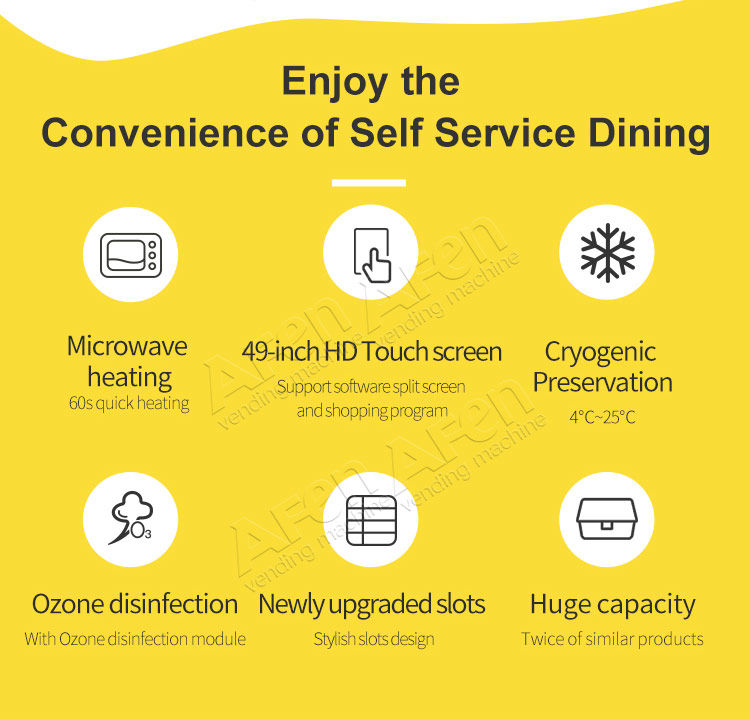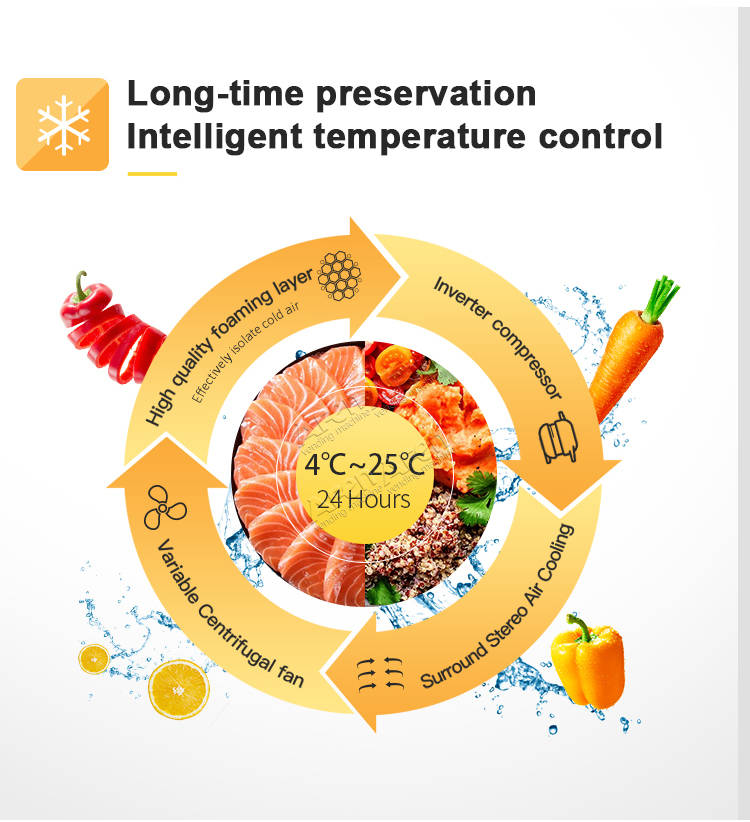 Machine Configurations
Structure:
1.Stable structure,low failure rate.
2.The material of cargo channel adopts food grade 304 stainless steel.
3.Independent ozone sterilization module.
4.Large-capacity cargo channel design,and automatic&smooth delivery.
5.Humanized middle pick-up port,anti-pinch hand,automatic opening and closing intelligent induction.
Featured design:
1.Foam molded liner for maintain a constant temperature.
2.Refrigeration modular system,commercial compressor,strong and fast refrigeration.
3.Variable centrifugal fan,uninterrupted internal circulation of cold air.
4.4℃-25℃ refrigeration,commodities long time preservation.
5.Built-in microwave oven,unique microwave heating technology, the food is heated faster and heated more evenly.
6.45s quick microwave heating,do not destroy the nutrition,color and flavor of the food.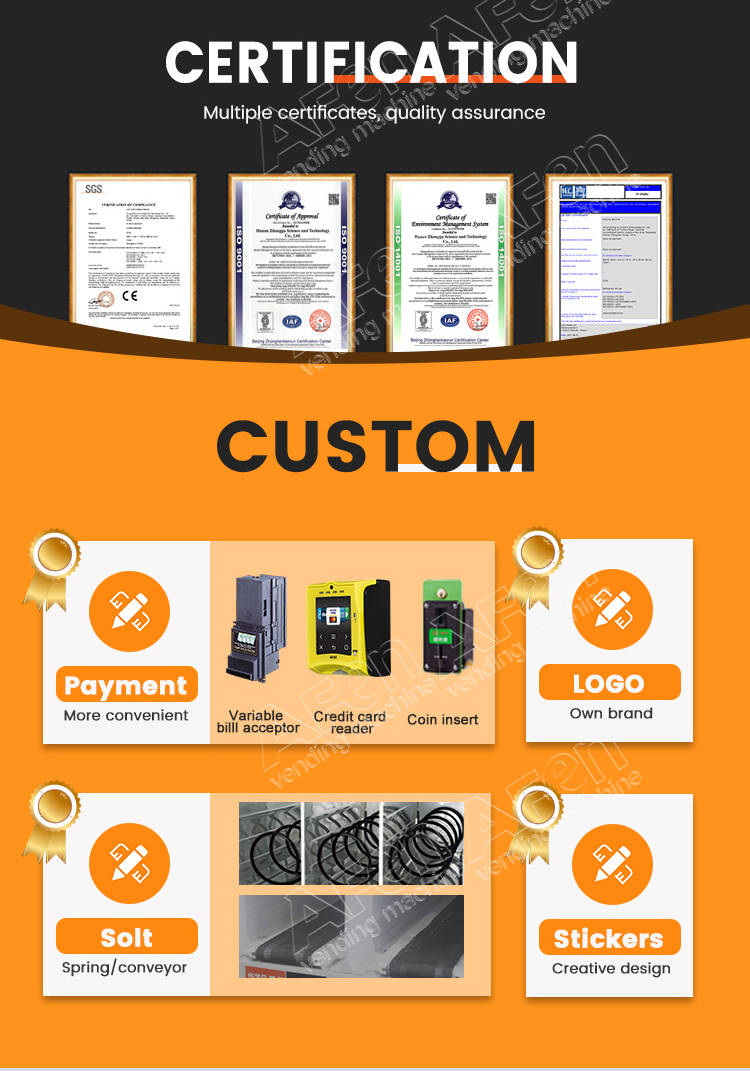 Cost-effective Vending Solutions
Software solutions:
AFEN Intelligent SAAS service system
Telemetry icloud service system,remote management,easy software management and intelligent remote operation,it's free to use forever after purchasing the machine.
Its main functions include,
1.Real-time Monitoring
2.Video Surveillance
3.Operation Configurations
4.Fault Alarming
5.Statistics Analysis
6.Income Assessment
7.Promotion Settings
8.Advertising Settings
9.Mobile APP
Payment solutions:
In addition to the basic cash,coin,card acceptor configurations,even the ID verification,age verification function options.
More importantly,the mobile phone payment that international standards version,and other cashless payment,
specifically,the QR code,face-scan/fingerprint,NFC and other payment functions can be customized and developed by docking with third-party.
AFEN service:
1.Our complete service, pre-sales, payment&shipping, after-sales.
2.Pre-sales, just the guidance, specifically, model choice, model configurations, software&function customization, payment customization.
3.Payment&shipping, we negotiate a plan.
4.After-sales, including the new machine operation guidance(hardware and management software), remote trouble shooting and repair guidance,machine upgrade&technical support, spare part supporting, independent maintenance and repair training.
5.Our resources of service, the team(account manager, hardware&software engineer), the cooperate(video&pdf course, online guidance, on-the-spot guidance).