AF-CEL-54C(V22)+MW Hot Food Meal Vending Machine with Microwave Ovens
Product parameters
Product Structure
Product Advantage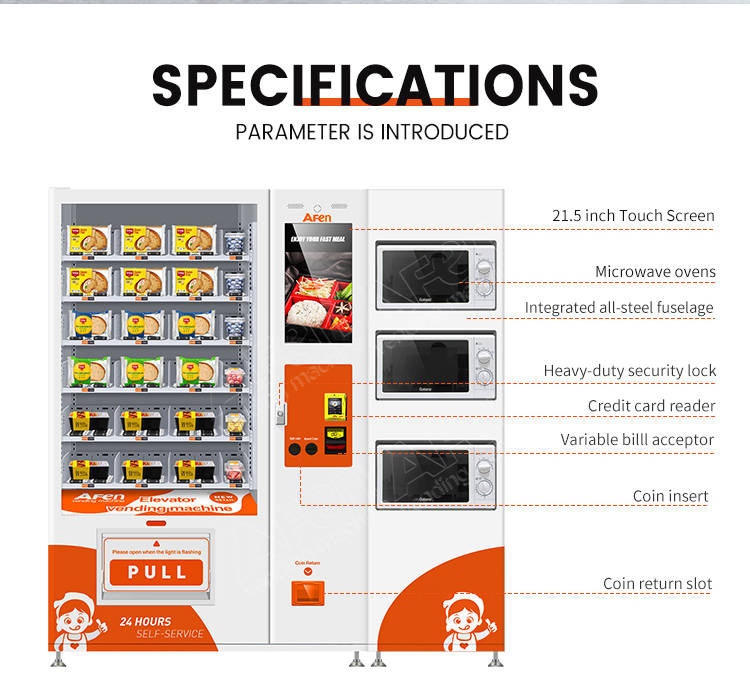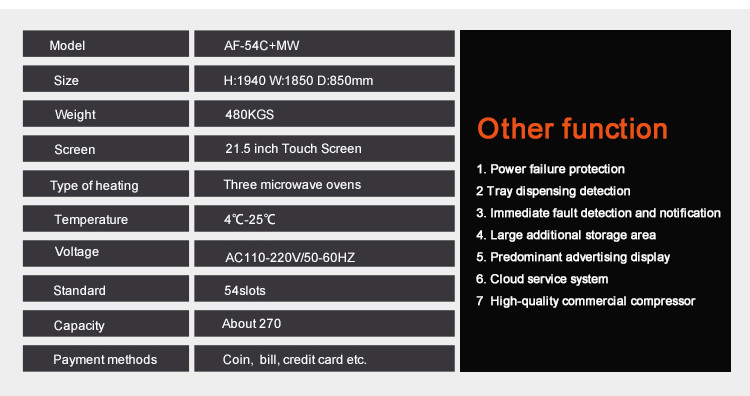 Hot Food Vending Business
Hot food vending machine,it's a intelligent restaurant,smart kitchen,it can sell 60 to 160 boxes of meal,it suitable for selling pizza,hamburger,hot dog,fries,box lunch meal,the take-out,etc.
It's suitable for operating in office buildings,school campus,factories,etc,you can develop the business related to breakfast, lunch,fast food in these places.
In terms of rental and labor costs, the operating cost of a machine should be much lower than that of a restaurant in the same period of time.
In addition,the location strategy is flexible,the catering business strategy is also flexible,multiple machines can be managed with only a small amount of manpower.Machine operation can cover more locations and affect more consumer groups,and there may be rental income from multimedia large-screen advertising spot.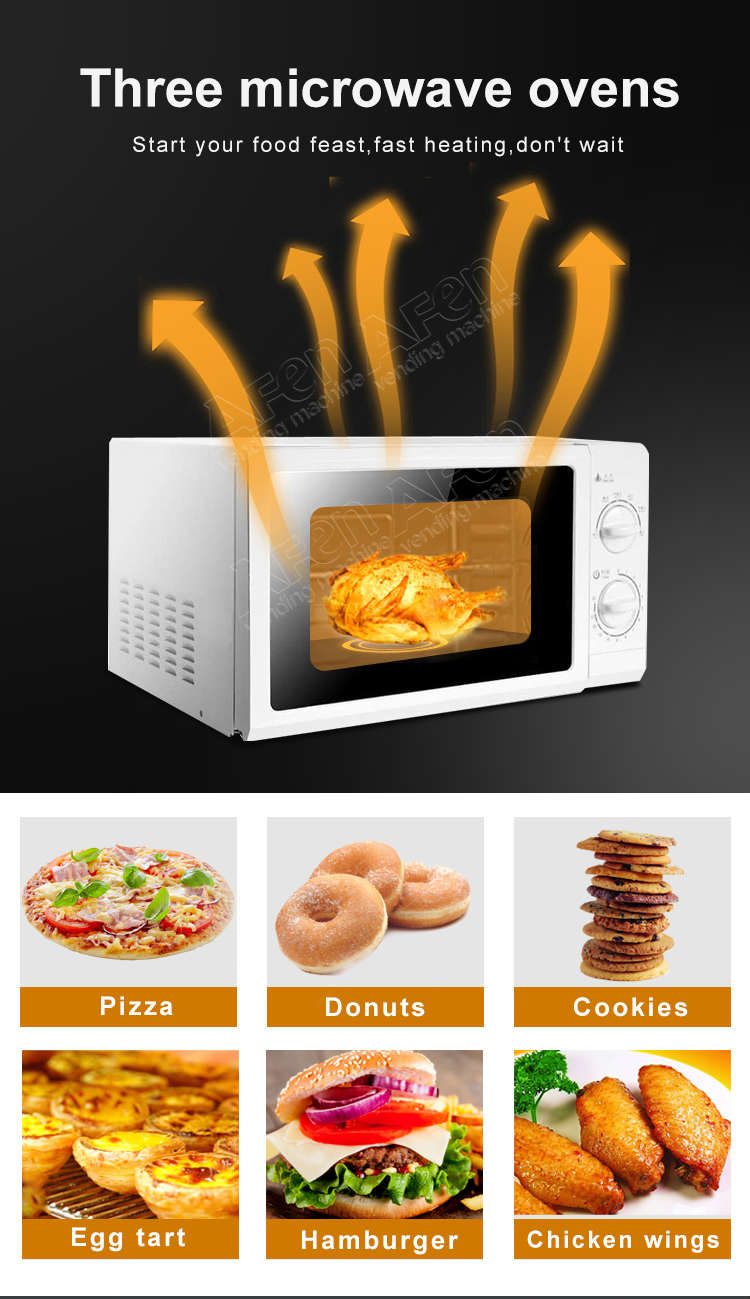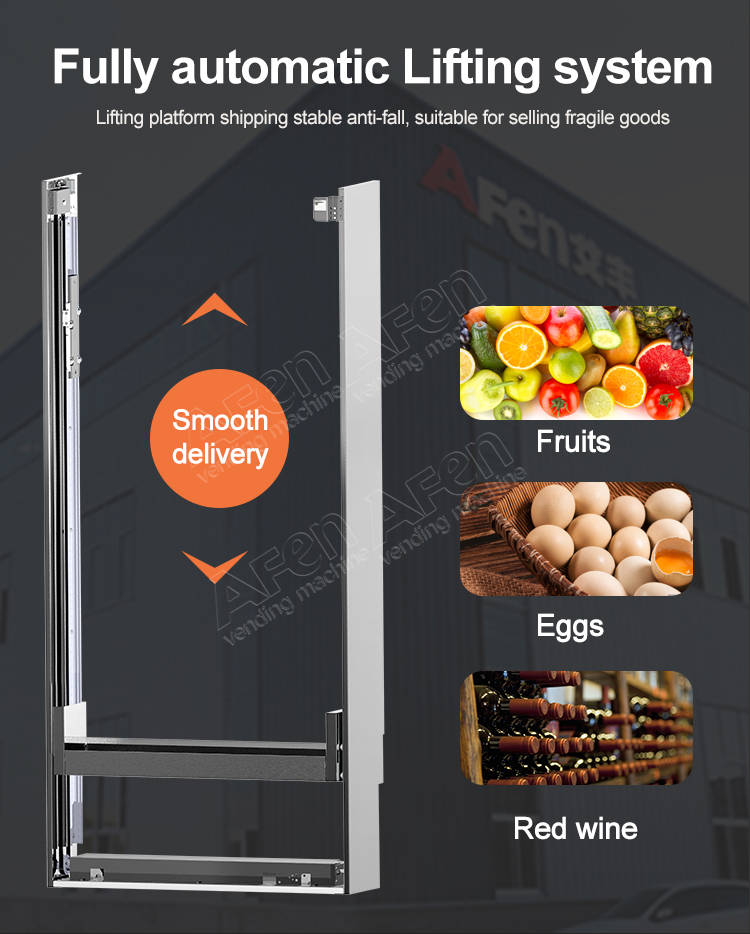 Machine Configurations
Its cargo channel,mainly conveyor belt type,the items are delivered smoothly with the elevator delivery system.It's refrigeration system configuration,the temperature can be flexibly adjusted between 4℃ and 25℃,it's suitable for selling various fast food(such as bakery food,sandwich,pizza,hamburger,etc).
It's 22 inch screen,shopping section,the intelligent interaction screen,supporting shopping cart function,multiple payment methods and convenient purchase.
Separate microwave oven,more food can be heated at the same time.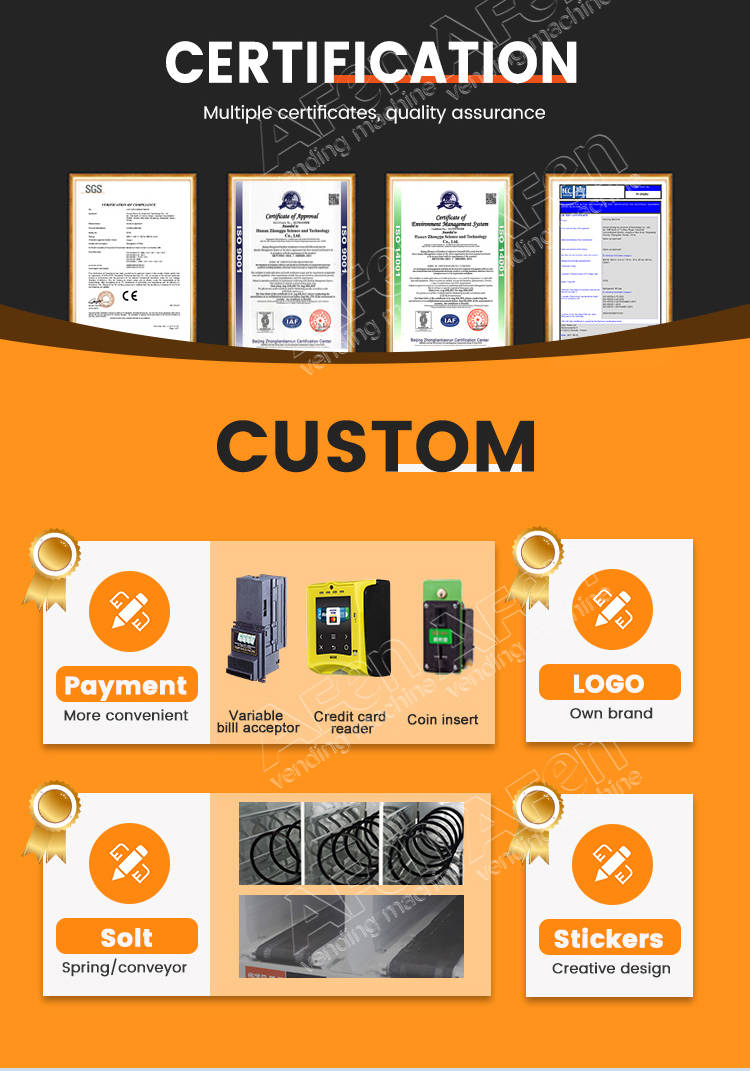 Cost-effective Vending Solutions
Software solutions:
AFEN Intelligent SAAS service system
The vending machine part
Telemetry icloud service system,remote management,easy software management and intelligent remote operation,it's free to use forever after purchasing the machine.
Its main functions include,
1.Real-time Monitoring
2.Video Surveillance
3.Operation Configurations
4.Fault Alarming
5.Statistics Analysis
6.Income Assessment
7.Promotion Settings
8.Advertising Settings
9.Mobile APP
Payment solutions:
In addition to the basic cash,coin,card acceptor configurations,even the ID verification,age verification function options.
More importantly,the mobile phone payment that international standards version,and other cashless payment,
specifically,the QR code,face-scan/fingerprint,NFC and other payment functions can be customized and developed by docking with third-party.
AFEN service:
1.Our complete service, pre-sales, payment&shipping, after-sales.
2.Pre-sales, just the guidance, specifically, model choice, model configurations, software&function customization, payment customization.
3.Payment&shipping, we negotiate a plan.
4.After-sales, including the new machine operation guidance(hardware and management software), remote trouble shooting and repair guidance,machine upgrade&technical support, spare part supporting, independent maintenance and repair training.
5.Our resources of service, the team(account manager, hardware&software engineer), the cooperate(video&pdf course, online guidance, on-the-spot guidance).