AF-S770 Pharmacy Medicine Vending Machine
Product parameters
Product Structure
Product Advantage
Basic Information
Application:
The model dimension(height width depth)1940*1306*790mm,its weight(without cash/coin/card acceptor)250kg,it's suitable for operating in
factories,hospitals,residence,community and other indoor and outdoor occasions.
Engine start:
The model voltage AC 100-240V/50-60HZ.
Scope of sales:
Its cargo channel, spiral type,items will drop from the slot after payment. This model has no cooling function,it's suitable for selling non-refrigeration required commodities,light weight commodities(such as mask,sanitary pad,condom,boxed medicine,etc).
Container capacity:
Its cargo channel,spiral type,the standard quantity of slots is 60(6 layers * 10 slots).The cargo channel is adjustable,there are 300-800 commodities can be placed according to the size of commodities.
Machine Customization
Structure&hardware:
1.Thickened fuselage,integrated all-steel fuselage,the steel sheet coated with anti-corrosion paint.
2.PVC insulation door seal,dust-proof,water-proof,and insulating temperature inside and outside the machine,more energy-saving and efficient.
3.The base of our machine can be disassembled and replaced independently, we provide several options for the base.
Featured design:
1.Supporting power-off protection.
2.The commodity detection function at the bottom of the machine.
3.Anti-theft outlet,cash/coin acceptor,security locker.
Payment configurations:
1.Cash,coin,card payment supported,adopting international MDB standard design and supporting various international standards for foreign currency.
2.The machine equipped with monitoring camera,its payment would be safer.
The whole machine and the detail,professional and high quality.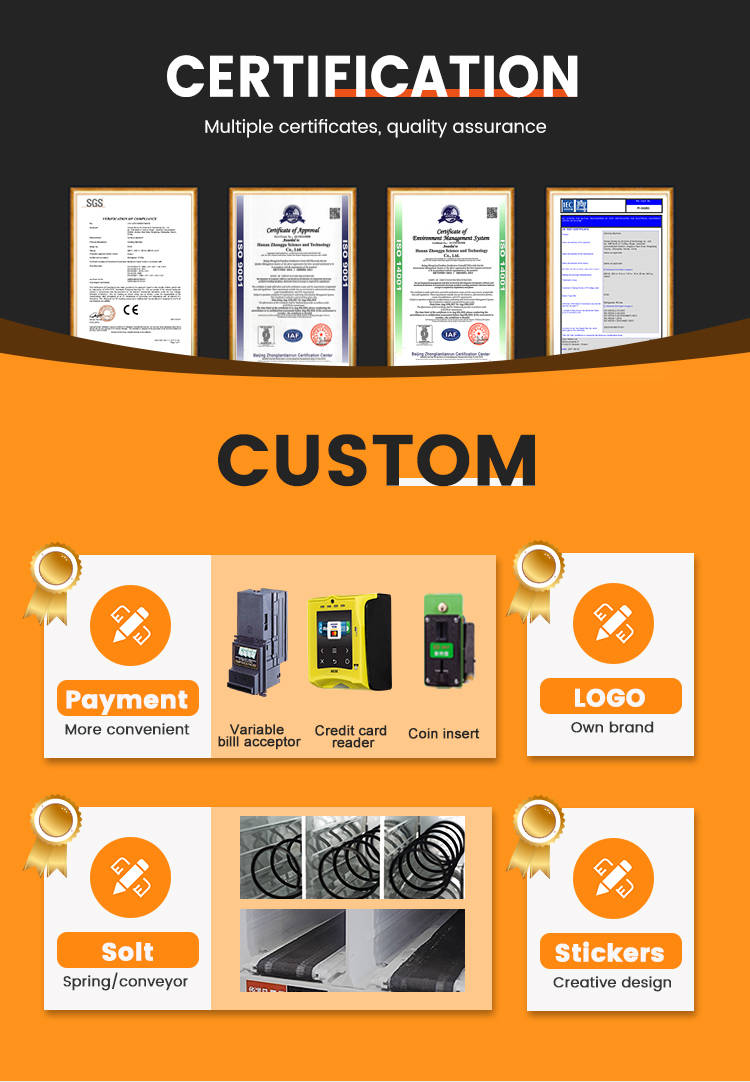 Cost-effective Vending Solutions
Software solutions:
AFEN Intelligent SAAS service system
Telemetry icloud service system,remote management,easy software management and intelligent remote operation,it's free to use forever after purchasing the machine.
Its main functions include,
1.Real-time Monitoring
2.Video Surveillance
3.Operation Configurations
4.Fault Alarming
5.Statistics Analysis
6.Income Assessment
7.Promotion Settings
Payment solutions:
In addition to the basic cash,coin,card acceptor configurations,the mobile phone QR code payment functions can be customized and developed by docking with third-party.
AFEN service:
1.Our complete service, pre-sales, payment&shipping, after-sales.
2.Pre-sales, just the guidance, specifically, model choice, model configurations, software&function customization, payment customization.
3.Payment&shipping, we negotiate a plan.
4.After-sales, including the new machine operation guidance(hardware and management software), remote trouble shooting and repair guidance,machine upgrade&technical support, spare part supporting, independent maintenance and repair training.
5.Our resources of service, the team(account manager, hardware&software engineer), the cooperate(video&pdf course, online guidance, on-the-spot guidance).