AFEN Vending Locker for Various Sizes Items
Product parameters
Product Structure
Product Advantage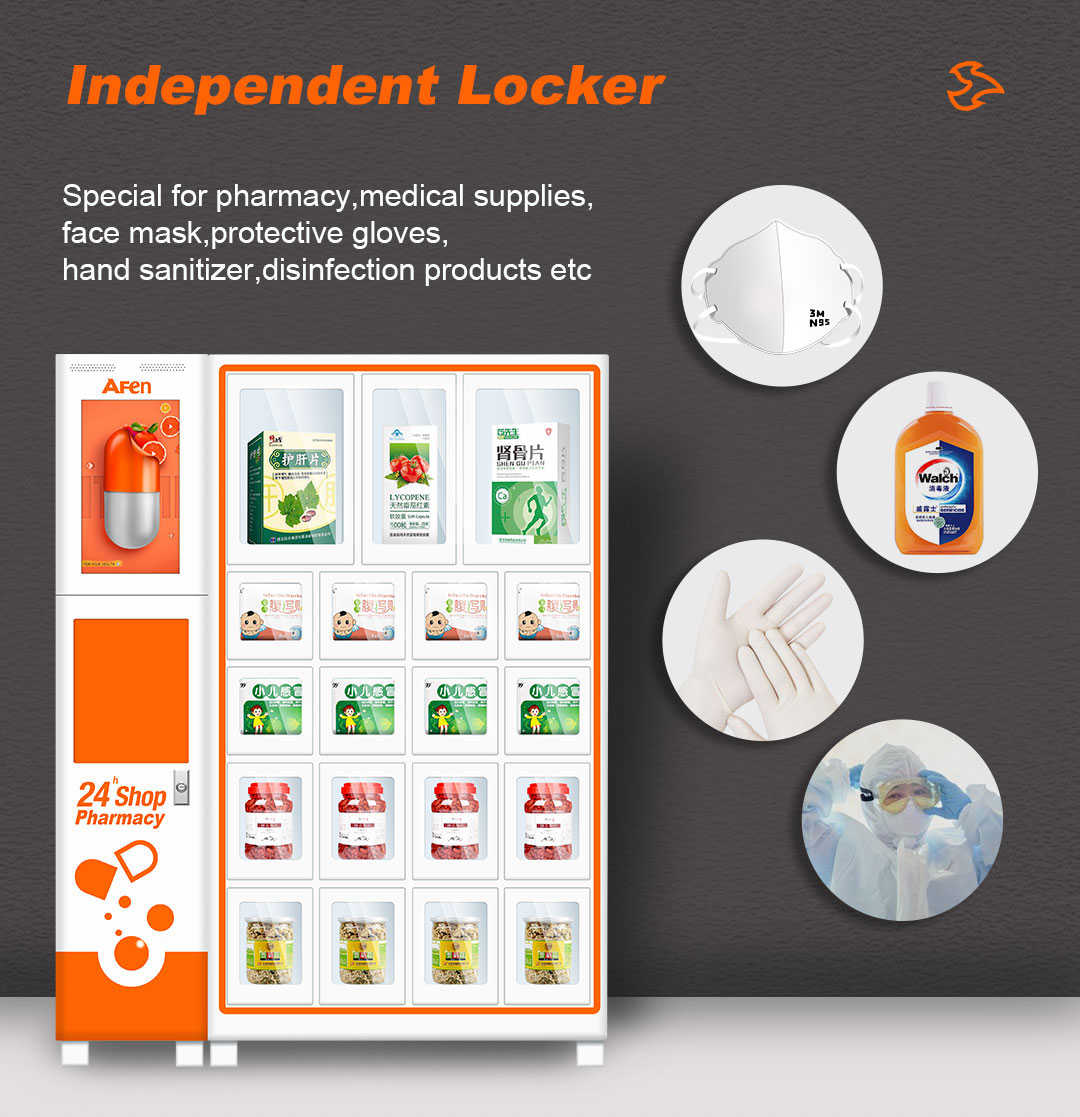 Vending Locker Business
On the one hand,there are several models(19,27,40,64,80units) for your reference,we can provide the model with customized structure according to your demands(the size of commodities).
On the other hand,we can also provide the model with cooling or heating function according to your business.The model with cooling function is suitable for the selling of vegetables,fruits,fresh milk,flowers,etc,the model with heating function is suitable for the selling of various hot food and fast food,such as hot dog,hamburger,pizza,box lunch meal,the take-out,etc.
Finally,the vending locker can also be applied to various non-food business,such as medicine,hygiene products,the personal health&care,etc,it is especially suitable for the selling of some large size items.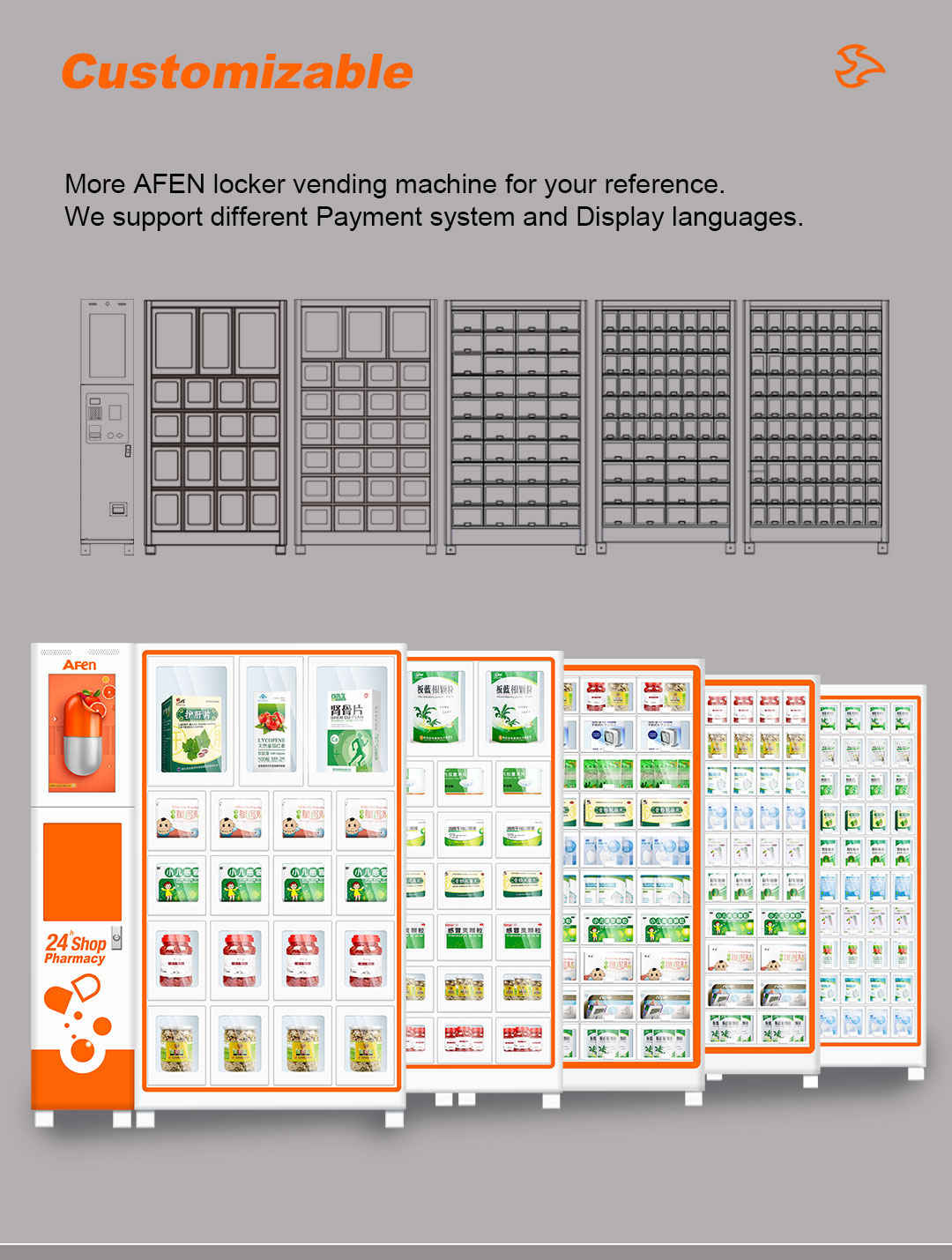 Machine Configurations
Structure:
1.Easy production and processing,simple structure,low cost.
2.Thickened fuselage,integrated all-steel fuselage,the steel sheet coated with anti-corrosion paint.
3.Thickened anti-theft glass door.
4.It can be easily combined with other vending machines.
Featured design:
1.The vending locker can be miniaturized,it is easy to transport,it has a wider range of applications.
2.The model without cooling and heating functions can consume less than 1KWh of electricity a day.
3.Its structure is simple,and there are basically no problems in the business.
4.It has no restrictions on the type and packaging of commodities,and any item that can be accommodated within the unit size can be sold.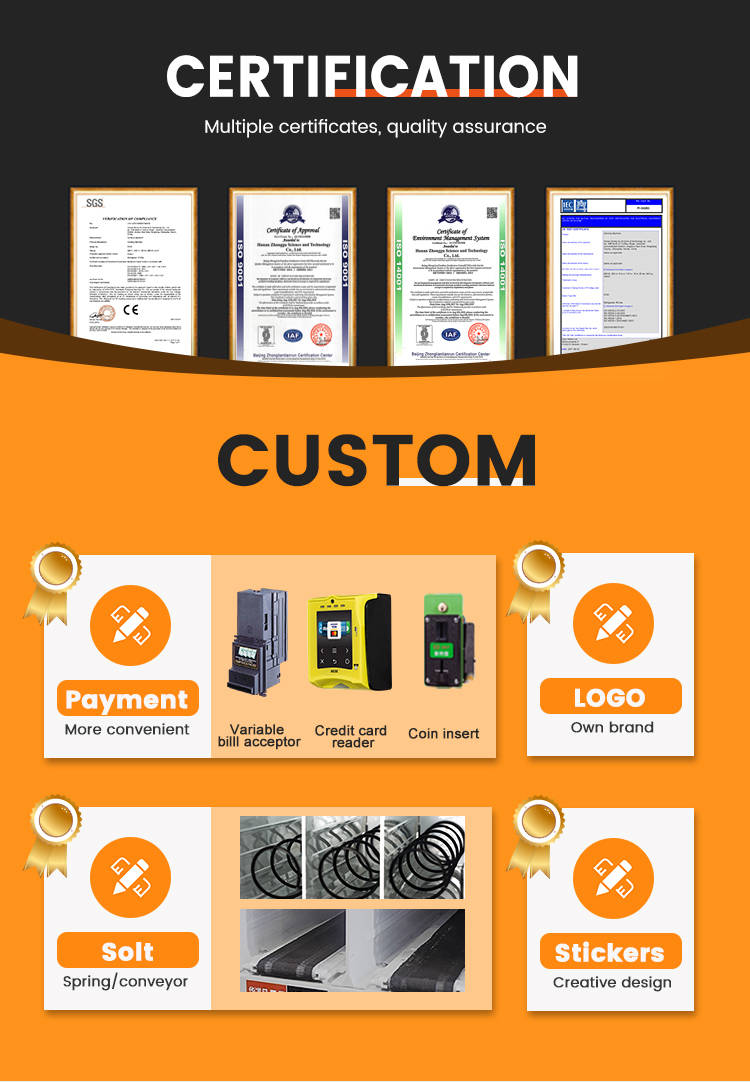 Cost-effective Vending Solutions
Software solutions:
AFEN Intelligent SAAS service system
Telemetry icloud service system,remote management,easy software management and intelligent remote operation,it's free to use forever after purchasing the machine.
Its main functions include,
1.Real-time Monitoring
2.Video Surveillance
3.Operation Configurations
4.Fault Alarming
5.Statistics Analysis
6.Income Assessment
7.Promotion Settings
8.Advertising Settings
9.Mobile APP
Payment solutions:
In addition to the basic cash,coin,card acceptor configurations,even the ID verification,age verification function options.
More importantly,the mobile phone payment that international standards version,and other cashless payment,
specifically,the QR code,face-scan/fingerprint,NFC and other payment functions can be customized and developed by docking with third-party.
AFEN service:
1.Our complete service,pre-sales,payment&shipping,after-sales.
2.Pre-sales,just the guidance,specifically,model choice,model configurations,software&function customization,payment customization.
3.Payment&shipping,we negotiate a plan.
4.After-sales,including the new machine operation guidance(hardware and management software),remote trouble shooting and repair guidance,machine upgrade&technical support,spare part supporting,independent maintenance and repair training.
5.Our resources of service,the team(account manager, hardware&software engineer), the cooperate(video&pdf course, online guidance, on-the-spot guidance).